PC Pitstop Erase
PC Pitstop Erase is a free privacy scanner that shows you information that your PC remembers: web sites you've visited, cookies that can store personal information, and files you have recently viewed or edited. Erase is also a paid tracks cleaner, which removes the sensitive personal data you wish to keep private or information that some can use to steal your identity.
Features:
Guard against identity theft.
Erase sensitive data for complete privacy.
Protect yourself from snooping or spying.
Assure confidentiality with the shredder option.
Manage cookies to prevent unwanted tracking.
Schedule cleanups for ongoing protection.
Fast download, easy to install!
Scan your PC now!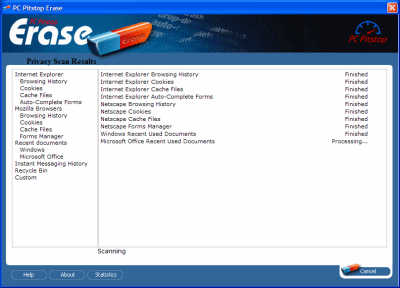 If unauthorized persons use this computer it is very easy for them to discover personal information about you, including saved credit card information, whether by accident or intentional spying. You can protect yourself from casual snoopers by clearing out this information on a regular basis. PC Pitstop Erase makes cleaning up these tracks a snap!
Through these millions of interactions, PC Pitstop has developed best-of-breed applications such as Optimize, Driver Alert, Disk MD, and Exterminate. Erase continues the tradition.
PC Pitstop Erase can protect your privacy on any PC running Windows Vista, XP, 2000, Me, or 98.
If you have further questions on Erase before or after you buy, participate in discussion forums or check out the frequently asked questions. For questions related to your purchase, use our customer service page. The trial version is limited to scan only. Click here to purchase an Erase license now for $29.99.